From the Principal's Desk
"Each and every institution is my soul. Each and every institution has a niche in my heart.
We all assayed day and night. And then prepared the way to growth"
-Sir Dr. M. S .Gosavi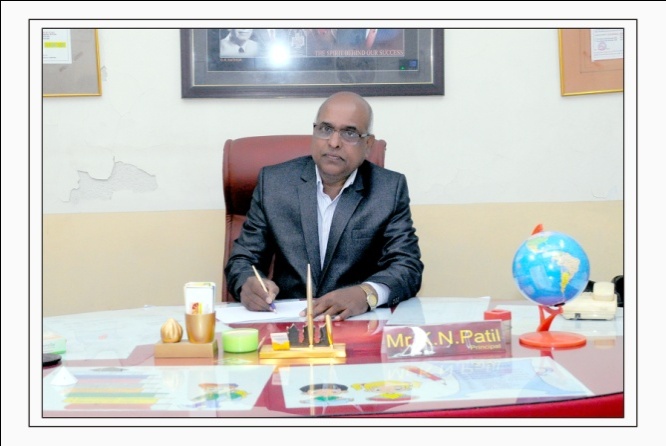 "Education is not just about going to school and getting a degree. It's about widening your knowledge and absorbing the truth about life". It is rather a harmonious and synchronized combination of hand (skills like various arts), head (Intellectual Power) and heart (Value System). In the present era of digitalized world, it the biggest challenge before educators and parents, to nurture the young minds with the indelible impressions of a holistic education.
"कर्मण्येवाधिकारस्ते" with this motto in our heart we work compassionately for the students and school. Since we have an Eagle in our school emblem  "The spirit of the eagle flies within us all." we're soaring high in the sky like an eagle perusing our dreams so we always say "We don't think we can fly because we know we can!"
Therefore, we come up with a vision to foster different facets of a student in order to see him/her developing as a vibrant student, responsible citizen and above all a generous and sentient human being. Our pedagogy is child centric, with emphasis on over- all growth and development of our students.
The school is hailed as a deemed institution which has carved a niche for itself, with the dedicated efforts of our deeply committed management, experienced teachers and active parents. We take the onus of making the child's journey in school rich with many enjoyable learning experiences by providing them an exquisite platform to hone their creative and inter-personal skills. The alumni of school, well settled across the globe, are anideal example of their cherishable and vivid learning experiences at school. The school is pledged to instill the much required values in the students without compromising their scientific temperament and questioning spirit.
This is an ISO 9001: 2015 certified school and the school is well equipped with surplus facilities like spacious classrooms, Science and Computer laboratories, Art and Craft Room, Kindergarten Play Garden, Cricket Ground, Volleyball ground, Auditorium, Well Stocked Library and the whole school campus under CCTV Surveillance.
I'm sure you will have a meaningful interaction with the school staff through a good reading experience of the school almanac which is in fact a medium of communication between parents and school.
Notwithstanding the challenges to develop altruistic human beings with raised standards of intellect, let us become equal stakeholders in moulding our children into desirable individuals.
PRINCIPAL
Mr. Patil K. N.